It's no longer a secret that we've been doing work for
Wargaming, Inc
., the makers of the hugely popular World of Tanks, World of Warplanes, and the forthcoming World of Warships (which is currently in open beta). We're doing the
Mac port
of
World of Warships
, and we've gotten to the point where it's in good enough shape that it needs some serious testing. And who better to do some serious testing than a naval historian who's written a
book on the Battle of Midway
, and who is an adjunct lecturer for the U.S. Naval War College, and given talks at Pearl Harbor, the National WWII Museum, the Nimitz Museum, and blah blah blah? Yeah, ummm, I guess that'd be me.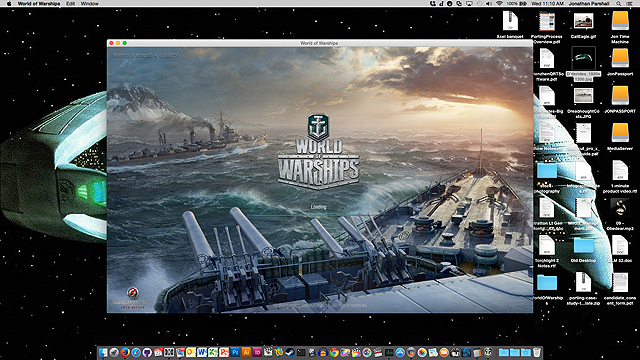 So, first things first: from a purely technical standpoint, our Mac port is going to be great. I've played the game extensively on Windows and on my Macbook Pro, and there's no perceptible difference in game play. None. If anything, with my Mac's SSD drive, it plays better on the Mac than at home on Windows. No graphical glitches, no performance issues, nothing. It works very, very well. When my ship sinks on my Mac, it sinks
exactly
the way it ought to on Windows: broken, capsizing, and in flames. And that's not just hype.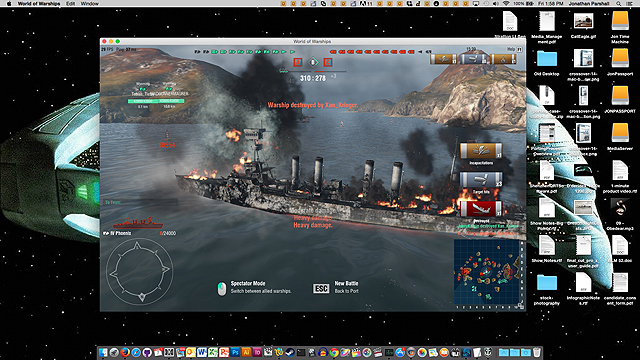 So is the game fun? Yeah, sadly, it really is. And I say "sadly," because, believe me, I need a good game to chew up my time like I need a hole in the head. (I am, after all, working on my next book.) But Wargaming has done a really good job injecting a sense of realism while tempering it with game balance as well. This is, after all, a game, and it's meant to be fun. Having done play-testing on some "hyper-realistic" games (including 360 Pacific's horrifically bad Gulf War simulation "Patriot"), I can tell you that games are supposed to be fun, first and foremost. "Realism" is nice, but "fun" is nicer. And this is a great mix of both.
So, for instance, if you're a hardcore Imperial Japanese Navy fan (which I most certainly am), you'll see a mixture of the perennial favs (battleship
Fuso
, heavy cruiser
Mogami
, and of course the mighty
Yamato
) mixed in with a bunch of never-built oddities. And you might be tempted to say, "The cruiser
Zao
? The carrier
Hakuryu
? What the hell were those?!?" Really, what those are, are conveniently vague placeholders that give Wargaming the wiggle-room it needs to make sure that things are reasonably well-balanced between tiers of warships.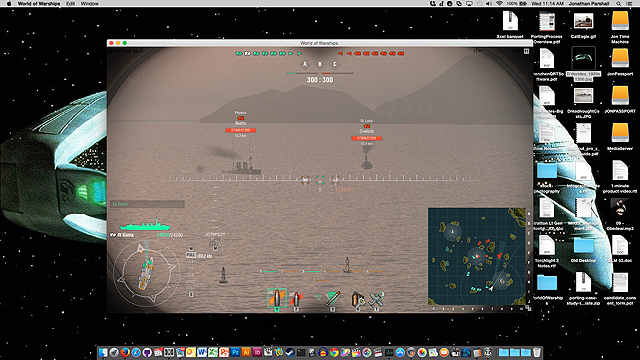 The equipment, likewise, "feels" realistic, even though it kinda isn't. So, yeah, if you're playing a battleship, you'll notice that your main armament has a much flatter trajectory at medium range than, say, a cruiser's armament (which is fair enough). But then again, if you take a look at the range of
Yamato
's main guns, 26.6km, you'll see that that's about 60% of their real-life maximum. All the weapon ranges are downscaled in this way. Likewise, ship speeds (and certainly acceleration) are all scaled up, so that players feel like they have mobility around the battlefield. In real life naval gunnery, encounters often felt as if they were being waged in slow motion, although some of the encounters in places like the Solomons could be comparatively fast-moving and short range. However, even a real-life brawl like the First Naval Battle of Guadalcanal, which was very fast to develop, and about the nearest thing to a knife-fight we got into in the Solomons, lasted for nearly 45 minutes. World of Warships encounters are
all
brawls of this type, but they typically take about 15-20 minutes apiece. That's a nice chunk of time: long enough to be interesting, but not so long that your wife will yell at you for being an hour late to dinner.
There's a lot more terrain on World of Warships ocean than there was in most real-world naval encounters as well. Most of the games I've played seem to be fought over the remains of some ancient, sunken volcanic calderas. (I had no idea that that many ancient sunken volcanic calderas even
existed
in the world.) In the game, you routinely use small islands to shield your maneuvers, or to sneak up on your opponent, or to get the hell out of the way before that enemy battleship over there unloads on you. That's "fun," but it ain't very realistic. In fact, no naval officer in his/her right mind would be willing to drive a ship into any of these horribly constricted maps festooned with toothy rocks and volcanic peaks. But then again, such maps are fun as hell, and it's a hoot to drive your
Kuma
-class T4 cruiser through there like a Porsche taking the curves on Hwy 1. What's not to like?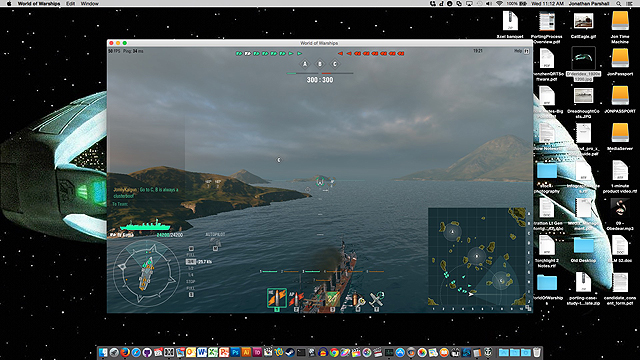 I also appreciated the fairly realistic tradeoffs being made between the various nationalities that reflected their "feel." So, you like torpedoes and speedy warships? Then go with the Japanese all the way, but don't expect to have super great survivability. You're into gunnery and protection? U.S. Navy, baby, but you have to get used to the fact that your plodding
South Carolina
is going to take a lot longer to get into the fight than my zippy little
Kuma
.
This brings up another point: the individual types of ships also feel and play differently. And this is good, too. So, for instance, with a battleship, you really have to think ahead to what you're going to be doing a minute or two from now, because your ship is slow, your turrets are very slow to train to new bearings, and your reload time is slow as well. So, you have to look down the road and think to yourself, "Yeah, he's going to be around there, and I need to be facing this way in order to unleash a broadside, but, oh, wait, there's going to be that island in my way, so I'd better adjust my course now." This is why I primarily play cruisers, not battleships. "Yep, everything's goin'
great
... mhmmm... my 6" guns are nibbling that guy to death… oh
crap
, torpedoes! Turn around NOW and
run like hell!!!
"
Anyway, the game is a hoot. I'll be playing more of it, and can't wait to see it released. If you're a naval history fan, whether you're running Mac or Linux, I think you'll really enjoy it. And if you see "JonnyKaigun" out on the servers, you know who he is now...
Run Microsoft Windows Applications and Games on Mac, Linux or ChromeOS save up to 20% off
CodeWeavers CrossOver+
today.